Cable gland
On request the cable entry point can be sealed with resin, preventing all possibility of water seeping inside the motor cover even if the cable's outer sheath is torn.
Shaft
Drive shaft in AISI 431 stainless steel. DUPLEX steel shaft available as optional.
Bearings
Oversized bearings to guarantee 100.000 working hours.
Mechanical seals
Two silicon carbide mechanical seals in the oil chamber and V-rings. The oil can be be checked and changed even with the pump vertical, using plugs on the outside of the mount.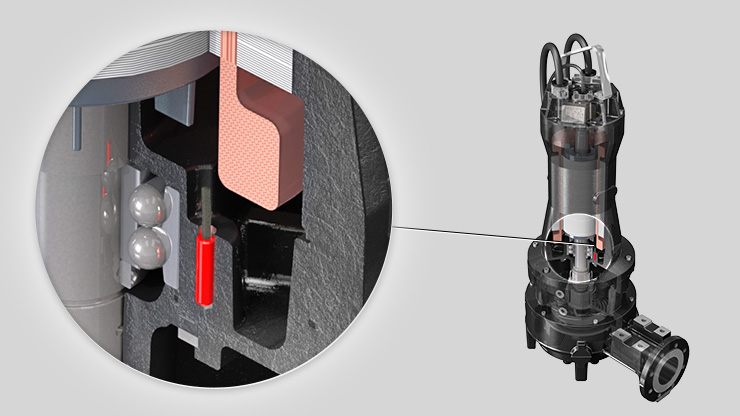 Probe
Possibility to equip the pump with many different optional probes to detect any anomaly. Humidity probe to detect water in the mechanical-seal oil-chamber standard also for ATEX version.
High efficiency motor
Motor designed with the aim of achieving the PREMIUM (IE3) efficiency class according to EN 6034-30. Operation guaranteed in S1 mode even in water at a temperature of 60°C or above. Generally, since energy costs are higher than other expenses, continuous duty provides higher savings compared to a conventional system and the initial investment in a high efficiency systems is soon recouped, without considering the considerable advantages in terms of environmental footprint.
Clogging-proof hydraulics
All hydraulic components are designed for the highest efficiency and the best performance while still ensuring ample free passages.
Impellers are available in cast-iron, stainless steel , bronze/aluminium or Molib-tech™, an innovative treatment that assures a much longer life compared to traditional ceramic paint.
All models with channel hydraulics feature an axial adjustment system allowing the impeller clearance to be restored, to maintain performance even further to normal wear and tear.
The ACS (Anti-Clogging System) consists of a spiral groove of suitable depth cut into the diffuser plate.
This prevents clogging of the impeller even with highly fouled liquids, allows stringy items to be pulled out or unwound and renders the hydraulics clogging-proof.
Patentet cooling system
The motor is cooled by means of a patentet internal "closed circuit" system. This ensures that there is no adulteration of the fluid used even if contaminated liquid accidentally enters the oil chamber due to wear of the first mechanical seal.
Continuous duty is ensured even in dry and partially submerged working conditions.
Modularity
The UNIQA series features a modular design in which the motor and hydraulics are perfectly coupled to each other. This characteristic allows the creation of particularly reliable units, thanks to the use of materials specific for the intended type of liquid and achievement of top performances, since every component is optimized for the duty point and of suitable size to guarantee minimal energy use.